Lessons and Carols Sunday, December 23 at 1 pm.
Christmas Day Service 11 am Rev. Canon Charles H. Nalls
The Annual Meeting will be next Sunday, December 2  after the service
John Hoover assists as Fr. Weiss blesses the Bibles.
Bibles Dedicated to Father Crites
On Sunday, July 1st the Church of the Epiphany (Amherst) dedicated large print King James Version Bibles to be placed in the pews in memory of The Rev. William Crites.
Fr. Crites had served Epiphany for many years and was Priest-In-Charge at the time of his death in February 2018. In addition to serving at Epiphany Fr. Crites, with his wife Lois, started St. Paul's Anglican Church in Lexington,
Virginia. He also faithfully served congregations in Clifton Forge, Blacksburg, and Charlottesville.
After the Service, July 29 we are having a luncheon at the Briar Patch.
Obituary for Dr. Larry Raymond Jewell DDS
Larry Raymond Jewell, DDS of Altavista, passed away on July 11, 2018, at Lynchburg General Hospital after several years of deteriorating health. He is survived by his wife, Lucinda Fayrene of the home, a daughter Michele "Micki" Kathleen Brumfield (Chris) of Altavista, a son, Charles Scott Jewell (Monica) of Burlington, NC, and a granddaughter, Alexandra "Andra" June (Daniel) Nassif of Roanoke.

Dr. Jewell was born in Neodesha, KS to Charles Raymond and Ruth Bressie Jewell on March 16, 1937. Upon graduating from high school he entered the US Navy as a dental technician. He graduated from Washington University School of Dentistry in St. Louis, MO in 1966 and rejoined the Navy as a 2nd Lieutenant. He practiced dentistry for 50 years at the Naval Shipyard in Norfolk and Altavista until his retirement in 2016.

He served the Altavista and surrounding community in many capacities as President of the Exchange Club, President of the Chamber of Commerce, Boy Scouts of America and Altavista Town Council. He also served on the Board of the Piedmont Council, the Board of Central Virginia Community College; he volunteered to teach dental students at the free dental clinic in Lynchburg and volunteered his dental services to the residents of Autumn Care in Altavista.

He was a member of the Church of the Epiphany in Amherst from 1983 until his passing. He volunteered and served as usher and vestry member for many years. 

A graveside service will be held at Green Hill Cemetery, Altavista on Saturday, July 14, 2018, at 10:00 a.m. with military honors by American Legion Post 16. Following the service at 11:00 a.m., a memorial service will be held at Finch and Finch Chapel. A reception will immediately follow the second service at the Altavista Area YMCA. All family and friends are invited to attend all services and the reception.

The family suggests that those wishing to make memorials consider St. Jude Children's Research Hospital, 501 St. Jude Place, Memphis, TN 38105 or Shriner's Hospital for Children, 2900 Rocky Point Drive, Tampa, FL 33607.
 This Sunday, July 1 We will be dedicating Bibles to Fr. Crites and Blessing the Bibles.
Hope to see you there. Holy Communion this Sunday at
11 AM
Holy Communion March 25 Palm Sunday 
11 AM
     Morning Prayer All Sundays in April 11 AM
                                      Services 
                          Morning Prayer March 4  
                        Holy Communion March 11     
                          Morning Prayer March 18 
                Holy Communion March 25 Palm Sunday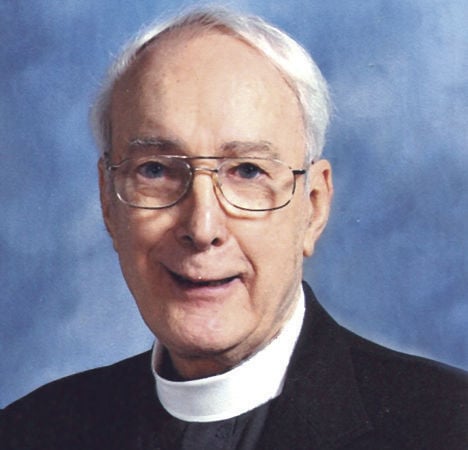 The Reverend William Charles Crites of Amherst, Va., formerly of Buena Vista, Va., went to be with his Lord Jesus on Friday, February 2, 2018. He was born in Dayton, Ohio to Emerson Harold Crites and Arabelle Freeman Crites. He is survived by three sons, Michael and wife, Germaine, Jim and wife, Becky, and David; and one daughter, Eileen Nicholson, and husband, Chris. He had five grandchildren and four great-grandchildren. He was preceded in death by his wife, Lois, in 2014; four sisters, Mary Grilliot, Carol Freeman, Ann Hollingsworth, and Gail Schlater; and one brother, Robert Crites. A memorial Celebration of Life will be held on Saturday, February 17, 2018, at 1 p.m., at Clifford Baptist Church, 635 Fletchers Level Road, Amherst VA 24521, with a reception immediately following. Inurnment will be held at Arlington National Cemetery at a later date. Memorial contributions may be made to your local hospice.
The arrangments for Fr. Crites memorial service and reception will be at 

Clifford Baptist Church on Saturday, February 17, 2018, at 1 pm.  
635 Fletchers Level Road
Amherst VA 24521
 take 

US-29 N

 to 

VA-151 N

  turn left                                                                       
Continue on 
VA-151 N
. to 
State Rte 610 turn right                                               
Clifford Baptist Church 
635 Fletchers Level Road on right.
I have received confirmation from Fr. Crites daughter Eileen that they will have the service start at 1:00 PM on Saturday, February 17. Not sure where as soon as I know I will let everyone know.

 

 

 

A request from Eileen: for those you want to send food please delay until the funeral service. Right now only Eileen and Michael are at the house and by midweek only Michael.Everything is greatly appreciated, whenever anything is done in memory if Fr. Crites.

The family is still getting everything arranged hope to know more this week.

With great sorrow that I inform you Fr. Crites passed away at 3:16 pm February 2. As soon are I get more information I will let everyone know.
 Eileen Fr. Crites daughter called a short while ago to give a update on her father.

On Monday he saw the Dr. and discussed his results. The consensus was not to try any medication and slow down what he has been taking. As of yesterday, he is under hospice care. As long as he is not moving he is not hurting.

The family asked No visitation or phone calls.

Eileen is keeping me posted and I will pass it on.

Please keep the whole family in your prayers.

 

As it stands right now, We will have Morning Prayer Sunday, February 4 and Fr. Weiss will celebrate Holy Communion 
                                       Vestry 2018
                        Senior Warden: Carol Roninson                                                                                         

Junior Warden: Eldon Cox                                                                                             Helen Lewis                                                                                                                  John Hoover                                                                                                                    Charles Patrick                                                                                                                                           Other Church officers                                                                                                   Treasurer: Rob Robinson                                                                                          Administrative & Vestry Secretary Carol Robinson
The annual parish meeting                   
will be Sunday, December 10
 after the service with a potluck to follow the meeting.
                                          Christmas Services
Sunday, December 24, 11 am Morning Prayer
Christmas Eve December 24, Holy Communion 7 pm
Christmas Day December 25, Holy Communion 10 am
                         Don't forget It's time to turn your clocks back. 
Daylight Saving Time ends Sunday, Nov. 5 - meaning when the clock strikes 2 a.m., we'll be "falling back" an hour to 1 a.m.
                                                                  Memorial
   Homer Caldwell said there would be a memorial for Phyllis, at their house Saturday, Nov. 11th., from 1 'til 4. The address is 235 Riverville Rd., Route 600,  go right on Rt. 60-East. It's about a quarter of a mile, at the top of the hill, on the left.
            The ladies of Epiphany will be meeting at the church
                                  Wednesday, October 11 at 11 am
       The Right Reverend Donald Lerow Bishop Ordinary will be at Epiphany for his annual visit on Sunday, 
September 10. Some of the ladies wish to do a potluck of difference salads that Sunday. 
If you would like to help here are some ideas 
vegetable salad, seafood salad, chicken salad, jello salad, Fruit salad, or anything you like.
                           Funeral arrangements for John Nash
   John Nash passed away this morning July 3. Service will be at Epiphany,
on Friday, July 7at 11 AM. Burial at Amherst Cemetery, with a reception at Epiphany to follow.
      Funeral arrangements for Canon Wallace C. Shields
As most of you know by now, Canon Wallace Shields entered the gates of
larger life earlier this week.  John Shields, Canon and Mrs. Shield's son,
has asked that I distribute the following funeral information throughout
the diocese.  Please feel free to pass this information on to any who may
Funeral arrangements for Canon Wallace Shields:
The funeral will be held on Saturday, June 17, at
The family will greet friends at the funeral home starting at 1:00 pm.
and the service will begin at 2:00 pm. in the funeral home chapel. 
Interment will follow at the Stonewall Jackson Cemetery in Lexington.
Cards may be sent to Mrs. Alice Shields at:
Please continue to keep the family in your prayers.
On Sunday morning April 23 at 8 AM Ed Lewis passed away.
Service will be at Good Shepherd in Evington, VA at 11 AM 
Saturday, April 29.
                                            Holy Week
    Maundy Thursday, April 13 will be celebrated in the undercroft
                                         at 7pm
Good Friday, April 14 the church will be open at 12 noon with a service                                                   at  2:30 pm   
                                           Vestry for 2017
                        Senior Warden: Helen Lewis                                                                                          

Junior Warden: Eldon Cox                                                                                             Evi Kirkmam                                                                                                                   John Hoover                                                                                                                    Charles Patrick  

                                                                                 

                                                                Other Church officers                                                                                                          Treasurer: Rob Robinson                                                                                          Administrative & Vestry Secretary Carol Robinson

 
Because we had to cancel church last Sunday. This Sunday, Jan. 15 we will celebrate Epiphany. The service will be Morning Prayer at 11 AM.
Church services for tomorrow Jan. 8th. has been canceled due to the snow.
Happy New Year and may God bless everyone.
Holy Communion Sunday, January 1, 2017, at 11 AM   
  Holy Communion               
 Christmas Carols at 6:50 pm    
Christmas Eve Service Saturday, December 24, 7 pm
Christmas Service Sunday, December 25, 11 am
Annual Meeting will be Sunday, December 11, after the service with a potluck to follow.